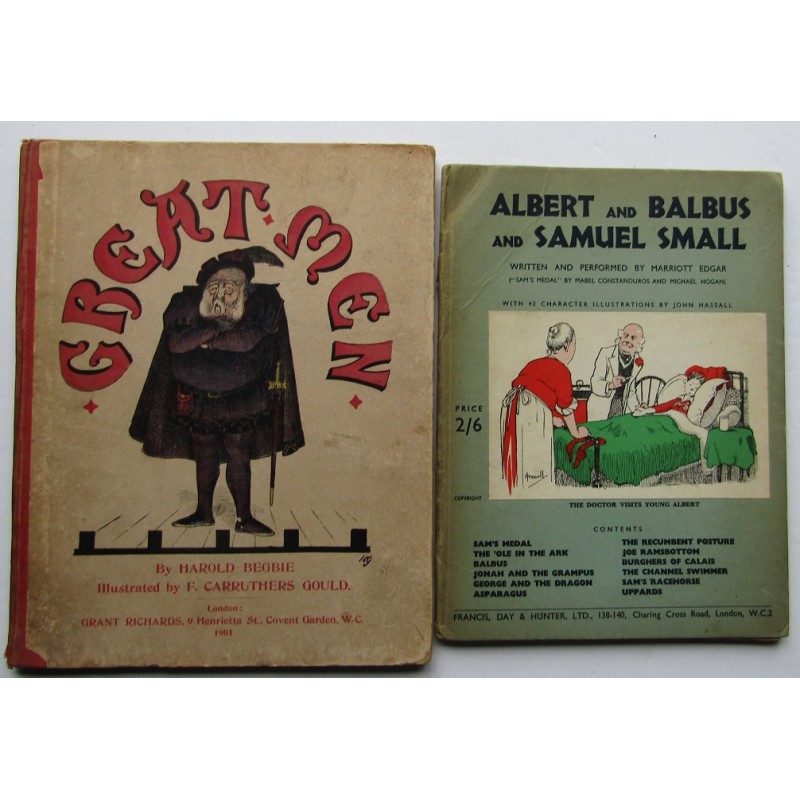  
Two Children's Books
Book I. 'Great Men'.
First edition 1901.
Engraved by Edmund Evans.
Pictorial lithograph hardcover with cloth spine.
24 full color pages with text facing, illustrations are
of notables of the day, (mainly members of Parliament),
with accompanying rhymes, each is portrayed as a
character out of history.
Book II. 'Albert and Balbus and Samuel Small'
First Edition 1940.
Pictorial hardcover with title.
32 pages.
42 character illustrations by John Hassall.
Illustrations include; Sam's Medal, The 'Ole in The Ark,
Balbus, Jonah and the Grampus, George and the Dragon,
Asparagus, The Recumbant Posture, Joe Ramsbottom,
Burghers of Calais, The Channel Swimmer, Sam's Racehorse.
A very nice scarce collection.
Data sheet
Publisher

Grant Richards/Francis, Day & Hunter Ltd., London

Author

Harold Begbie/Marriott Edgar

Date Published

1901/1940

Binding

Hardback

Condition

Very Good